Shell, Ducati Extend Partnership
Tags:
motor oils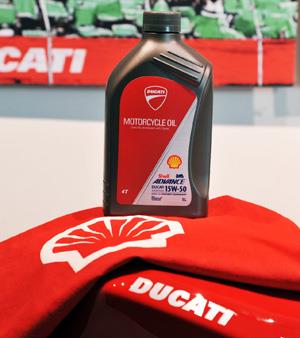 Shell and Ducati recently announced an extension of their technical partnership agreement for an additional three years. The terms of the agreement include Shell becoming Ducati's exclusive supplier of aftermarket engine oils for the first time with the launch of Shell Advance Ducati, a new motorcycle oil developed specially for Ducati road bikes.
"Shell Advance motorcycle oil has been instrumental in the success Ducati Corse has achieved, aiding our race performance with improved speed and continued reliability," said Claudio Domenicali, CEO of Ducati Motor Holding. "It is extremely exciting to see the partnership extend further to impact our road bikes and now even our after sales divisions so that Ducati customers will benefit continuously from our technical progress as partners on the track."
Shell and Ducati first joined forces in 1999 with Shell supporting Ducati Corse in the World Superbike Championship. The partnership has been one of the most successful in premier motorcycle racing, with more than 150 race wins and seven Riders' World Titles in MotoGP and the World Superbike Championship.
"Over the years, Shell's relationship with Ducati has grown from strength to strength," added Carol Chen, general manager for consumer lubricant marketing at Shell. "We have worked together to overcome the challenges of competing at the very pinnacle of motorcycle racing. Now we are bringing collaboration to Ducati riders through our first fill and aftermarket agreements, which means that every Ducati road bike customer can now experience the innovation and performance born of the track from their very first ride."
The new Shell Advance Ducati will first be available exclusively to Ducati aftermarket dealers and workshops in the United States, Canada and Italy later this year. The oil is designed to offer complete protection by keeping pistons clean, guarding against engine wear and protecting bike engines at high temperatures.
For more information, visit www.shell.com.