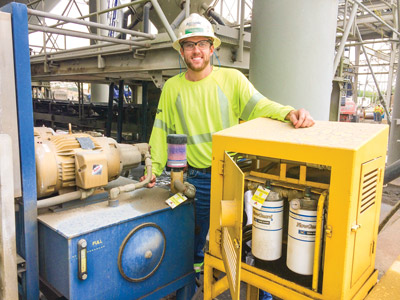 Name: Clay Allen
Age: 28
Job Title: Mechanical Reliability Engineer
Company: The Mosaic Co.
Location: Bradley, Florida
Length of Service: 4 years
In four years at the Mosaic Co., Clay Allen has already held three positions at three different mines. His current role is as the mechanical reliability engineer at the Four Corners mine, which is the company's largest phosphate mine and one of the largest producers of ore in the world. Allen's focus on lubrication began after transferring from operations to the maintenance department nearly two years ago. As a reliability engineer, he is responsible for all rotating equipment and has discovered that if it moves, it needs some type of lubrication.
Q: What professional certifications have you attained?
A: I am certified as a Level I Machine Lubrication Technician (MLT I), Level II Machine Lubricant Analyst (MLA II), Category II Machinery Vibration Analyst, Level I Airborne/Structure Borne Ultrasound, and as a Certified Maintenance and Reliability Professional (CMRP).
Q: Are you planning to obtain additional training or achieve higher certifications?
A: I plan on continuing to strengthen my skills in root cause failure analysis and failure mode and effects analysis to help move our site into the precision operating realm by eliminating defects.
Q: What's a normal work day like for you?
A: We have a daily production/maintenance meeting at 6:30 a.m. where production and maintenance personnel discuss the events from the night shift and the maintenance plan for the day. I provide input on current predictive maintenance (PdM) findings and help prioritize work orders for that day/week.
The mechanics clock in at 7 a.m., and I attend a couple of their morning meetings per month to discuss precision maintenance and lubrication topics, as well as to listen to the issues that preventive maintenance (PM) mechanics are having with equipment.
I try to stay out of the day-to-day issues of general maintenance activities and stick to the big-picture view of asset reliability and precision maintenance/lubrication. At times, I work hands-on with the mechanics when work orders relating to lubrication or precision installation are scheduled. I always like to be there to explain why this work needs to be done and how it will help us achieve our business goals in the long term. It is important to me to be visible and out in the plant whenever possible so I can keep a finger on the pulse of the plant and see first-hand the issues that the mechanics are facing. I then take those issues and formulate an overall asset strategy for improvement/defect elimination.
Q: What is the amount and range of equipment you help service through lubrication/oil analysis tasks?
A: At the Four Corners Plant, we have 60+ horizontal slurry pumps, 10+ vertical water pumps, 30+ right-angle mixer gearboxes, 50+ parallel shaft gearboxes, 10+ hydraulic systems, 80+ agitator flotation machines and 3+ miles of conveyor belt. I oversee 190+ total oil samples (some monthly and some quarterly).
Q: On what lubrication-related projects are you currently working?
A: I am currently working on PM optimization, launching our pump oil sampling efforts and using ultrasound technology to monitor the health of and aid in applying grease to conveyor pulley bearings. The results of these projects will help us move into the precision maintenance domain and save money by attaining longer equipment life, reducing man-hours and decreasing lubricant spending.
Q: What have been some of the biggest project successes in which you've played a part?
A: During my time here at Four Corners, we have significantly reduced our hydraulic oil usage in one year through offline kidney-loop filtering, initiating weekly PMs and preventing contamination from entering the systems.
These actions have resulted in a 94-percent reduction in particles over six months. The number of particles went from an average of 70,000 to 4,000 particles per milliliter.
We also discovered that we were using the wrong kind of oil in five different assets. This has been corrected and has led to a 38-percent reduction in oil usage in our log-washer gearboxes in one year.
In addition, we have taken control of our oil sampling program by bringing it in-house. Our PM mechanics now do all the oil sampling instead of a contractor. This enables us to obtain better data because we can sample any equipment at any time, and the PM mechanics can see the inside of the equipment by pulling a sample. This does wonders for ownership, as they can directly see their efforts paying off by having cleaner oil. It also saves us $14,000 a year.
Q: How does your company view machinery lubrication in terms of importance and overall business strategy?
A: Mosaic views precision lubrication as mission critical to our success. In order to stay competitive and retain our position as the world's largest producer of crop nutrient products, we must take care of our equipment and keep it available for production. Precision lubrication alone is not the magic solution, but it does play a significant role in the overall maintenance strategy of any company's equipment. I like to say nothing will put you down faster or keep you running longer than lubrication.
Q: What do you see as some of the more important trends taking place in the lubrication and oil analysis field?
A: Most of what I see and what has helped Mosaic is training and education for everyone, not just engineers, supervisors or PM mechanics. The maintenance department's philosophy at Four Corners is to empower each mechanic with the knowledge, procedures and tools to safely and efficiently care for the equipment.
Any department's culture and mentality start at the top. Both the maintenance superintendent and maintenance manager have passed the MLT I exam, and the maintenance superintendent plans to take the MLA II exam later this year. In addition to the managers, our three maintenance supervisors and five mechanics are MLT I certified. Subsequently, precision lubrication is being engrained into the culture at the Four Corners plant, and it all starts with training and education.