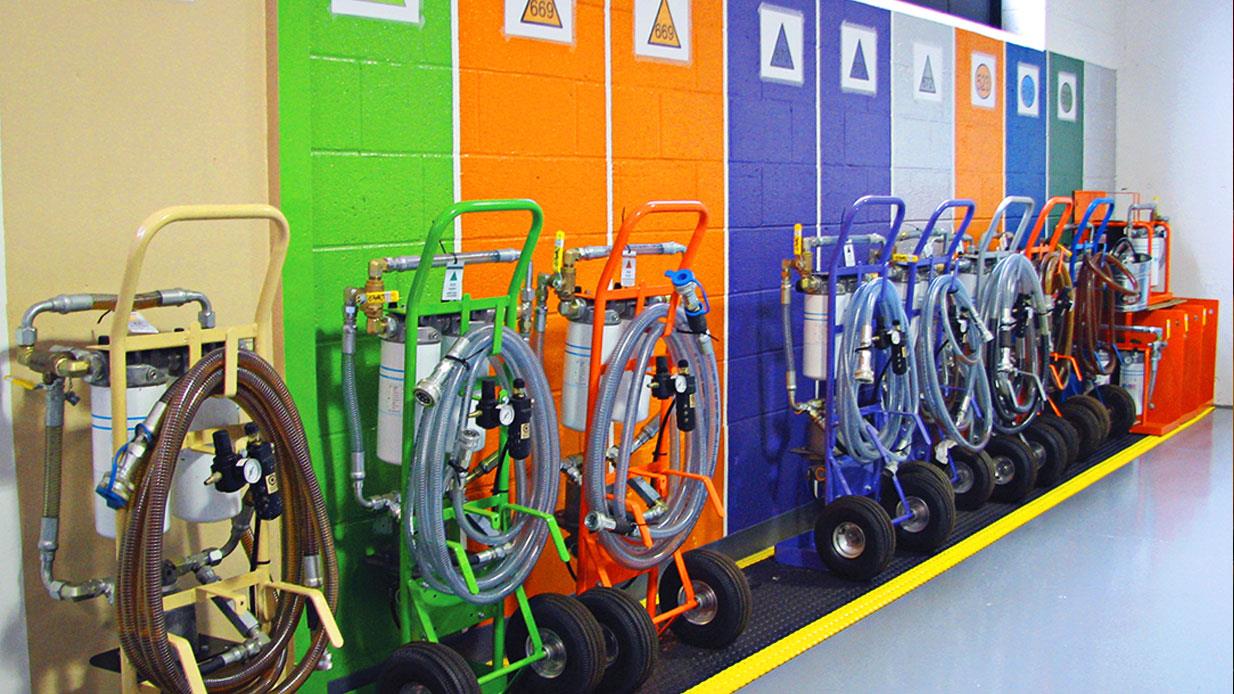 Offline oil filtration is a proven way of cleaning and handling your machine's lubricants, but the equipment selection process must be done correctly with your lubrication goals in mind.
Before making the decision to invest in a filter cart or other type of offline filtration, you must understand how this type of filtration works in a hydraulic system. The average hydraulic system relies on three filter placement options: the suction filter, pressure line and return line filter.
Previously, it was thought the pressure filter was the most essential filter in the circuit, helping to protect sensitive downstream components, servo valves, pressure controls, motors and cylinders. However, today's hydraulic experts will tell you that with the proper use of offline filtration along with system pressure filters and return filters, you can maintain the highest levels of lubricant cleanliness in a cost-effective manner.
Advantages of Offline Filtration Systems
An offline or kidney-loop filtration system can offer a number of advantages, such as the ability to pre-clean drum and tote fluids, as well as provide a constant flow of oil through the filter without pressure spikes. Lower pressure drops across the filtering media can also allow for the selection of finer media at a reasonable cost. In addition, the filters on a filter cart are accessible and easily changed, delaying the need to replace expensive, difficult-to-access system filters.
Types of Offline Filtration Systems
When it comes to offline systems used to clean fluids, there are several different types. Large, permanently mounted or mobile systems (as shown above) may operate around the clock to remove specific contaminants. These are generally expensive. A vacuum dehydrator would fit into this category. Other filtration systems can service thousands of gallons with specialized filters for removing varnish and other harmful byproducts.
The most common portable option is the filter cart mounted to a hand truck (left). These carts often utilize an electric or air motor, hydraulic pump and filters with many available adders in a range of sizes and abilities. Read more on how to select and setup and oil filter cart.
The third alternative is a portable system with onboard totes (right), including a filtering system. These carts are transported to the equipment to provide clean oil and/or recirculate the dirty oil in the reservoir until the cleanliness targets are achieved.
An additional offline filtration option includes a component that can be installed directly in the reservoir breather opening and drum/tote bung opening to supply down tubes for simple oil access, making offline filtration connections easy.
Drawbacks of Filter Carts
While filter carts are a common offline filtration option, if used improperly, they can also work as a disadvantage to your machinery. Employing filter carts designed for low-viscosity fluids on high-viscosity oils can damage your filter cart.
Utilizing the same filter cart for different lubricants without first performing a thorough oil flush can result in cross-contamination. Insufficient contamination control practices such as storing your cart, attachment hoses and connections in an unsealed, dirty or wet environment will also adversely impact your hydraulic system.
Offline Filtration for Gearboxes
As gearbox manufacturers place greater importance on oil cleanliness to ensure a longer lifespan for their products, the ideas on filtration for high-viscosity gear oils have changed. Although both permanent and portable offline filtration systems are available for these oils, filtering high-viscosity gear oils can be difficult.
Many gearboxes are used in dirty environments and aren't fitted with breathers or clean-out covers for easy access to the fluid. Most high-viscosity gear oils are not filtered, so dirty oil in gearboxes is a common practice. Other problems may also arise when draining and refilling gearboxes with new oil.
It's critical to select the right filter type and housing size when filtering gearbox oils. While the most important element is viscosity, always consider the temperature at which the fluid will be filtered. Even the smallest change in temperature will affect the viscosity levels. The main factors influencing how quickly you will reach your target cleanliness goal will be the initial fluid cleanliness level, flow rate and viscosity.
Choose Wisely
Offline filtration makes it possible to increase the reliability of your equipment, which means big savings to your bottom line. To find the best offline filtration option for you, work with your filter distributor or manufacturer and choose wisely.
There are many filter cart suppliers to choose from, and not all are of the same quality. Finally, remember that a filter cart is a crucial component to meeting your cleanliness goals, but it must be used correctly to be effective.
About the Author
Marc Watson has more than 40 years of experience in fluid power and is the founder of C-Change, a manufacturer of interfacing adapters from oil reservoirs to filtering systems.