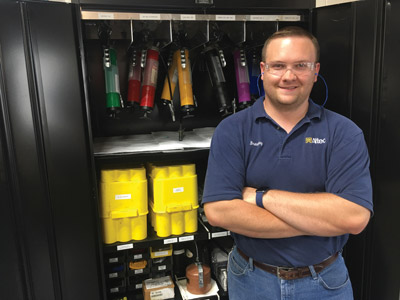 Name: Bradley Vinson
Age: 23
Job Title: Reliability Technician
Company: Altec Industries
Location: Elizabethtown, Kentucky
Length of Service: 3 years
Three years ago, Bradley Vinson joined the Altec Industries team as a maintenance technician soon after obtaining his associate degree. He performed several lubrication preventive maintenance (PM) tasks during his time as a maintenance technician, but it wasn't until he transferred to his current position as a reliability technician that he realized the true value and importance of precision lubrication. That's also when he began to focus on which failures were lubrication related and how Altec's practices could make a dramatic difference.
Q: What types of training have you taken to reach your current position?
A: I have taken Noria's Machinery Lubrication I course, which really brought to light the importance of lubrication practices, as well as best practices for oil sampling and analysis. I have also attended several predictive maintenance training courses, including thermography, vibration analysis and other reliability-centered training.
Q: What professional certifications have you attained?
A: I have ISO Category I Vibration Analyst, Level II Certified Thermographer, Level I Machine Lubrication Technician, and Certified Maintenance and Reliability Professional certifications.
Q: Are you planning to obtain additional training or achieve higher certifications?
A: I should obtain my ISO Category II Vibration Analyst certification when I reach the experience time required. I also plan to attend more training in the future, such as precision maintenance practices, root cause analysis and other reliability-centered topics. There are so many ways to continually improve, and I believe that training is a large part of leading that improvement.
Q: What's a normal work day like for you?
A: My tasks consist of writing lubrication specifications for new machines, continuously improving lubrication procedures, completing predictive maintenance routes and analysis, and other continuous improvement items. However, my primary focus is to determine the root cause of machinery failures and to help our team pull those failures out by their roots.
Q: What is the amount and range of equipment you help service through lubrication/oil analysis tasks?
A: We primarily use oil analysis for our machining centers, press brakes, band saws, etc. In our lubrication program, we also have the normal manufacturing equipment, such as electric motors, pumps and bearings.
Q: On what lubrication-related projects are you currently working?
A: In the near future, I hope to implement ultrasonic lubrication for our machinery. I realize the benefit of knowing exactly how much lubricant a component needs and being able to provide that amount every time as a huge key for machinery failure elimination.
Q: What have been some of the biggest project successes in which you've played a part?
A: We had several costly and high downtime lubricant-related failures in some of our machining centers. We were able to implement a kidney-loop-style oil filtering system, and that failure has essentially been eliminated on all of our machining centers. This was a big win for our team here at Elizabethtown. Also, I implemented an ultrasonic leak detection program, which allowed us to save thousands on compressed air and welding gas leaks. This is also a significant win for the environment by using less electricity to generate that wasted compressed air.
Q: How does your company view machinery lubrication in terms of importance and overall business strategy?
A: We realize that the majority of bearing failures are caused by lubrication issues, which has put the spotlight on how we can improve our lubrication program. We have come a long way in our oil and grease storage, grease application, oil transferring process, and all other lubrication practices in the past couple of years. Noria's training has been a big part of guiding us through that transition.
Q: What do you see as some of the more important trends taking place in the lubrication and oil analysis field?
A: I think ultrasonic lubrication is definitely one of the top trends in the field right now. Going from frequency and amount calculations to actually knowing how much grease a component contains is a huge win for the reliability world.
Q: What has made your company decide to put more emphasis on machinery lubrication?
A: As a lot of companies do, we focus on reducing production downtime. We look at the root cause of issues that cause downtime and have found lubrication-related faults to be a significant player in that area.