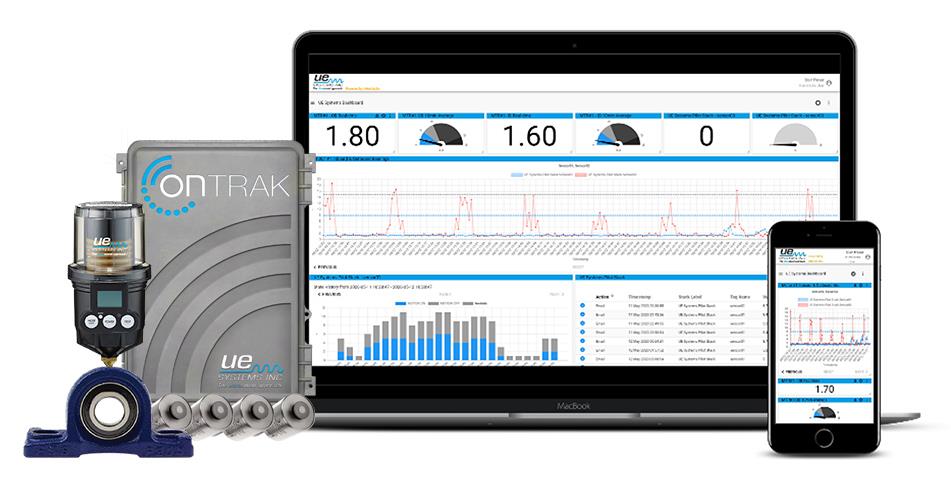 Several factors play a role in proper regreasing. It is important to know not just when to lubricate, but also how much grease to add and how to apply it properly without causing unnecessary contamination. A lubrication program that is well-versed in these elements comes from having the necessary training, tools, and staff requirements in place. This need for resources (along with lack of education) is one of the key reasons organizations neglect to improve their lubrication programs, despite the importance of lubrication in minimizing downtime, fostering reliability and ultimately increasing profitability.
Knowing the extent of this problem, UE Systems, the world leader in ultrasonic instruments & training solutions, developed the OnTrak SmartLube system. Using ultrasonic technology and the power of prescriptive monitoring, lubrication teams can use OnTrak SmartLube to monitor bearing friction and remotely lubricate their equipment.
How Does it Work?
The OnTrak SmartLube system uses ultrasound technology to monitor bearing friction and detect the moment grease is needed. It is supported by the market-leading OnTrak IIOT System, a 16 channel IIoT Bearing Monitoring System, and offers access to UE Insights, a cloud-based dashboard and alert-deployment platform.
Users can view metrics such as the remaining grease level, volume of lubricant used and time between cycles, which helps to monitor the state of the equipment and track cost savings. In harmony with the power of Ultrasound technology, the OnTrak SmartLube provides organizations with a game-changing opportunity to monitor, identify and rectify bearing issues independent of time or location. The OnTrak SmartLube is also powered by a unique and powerful learning engine, providing automated suggestions to users ready to partially or totally automate their remote lubrication tasks.
Poor lubrication practices account for 50% of machine failures. While traditional regreasing methods are relatively cheap to implement, it almost always results in over or under lubrication, leading to suboptimal bearing function. Having the OnTrak System in place can play a large role in preventing machine failure by eliminating guesswork—the M-UE Single-Point Lubricator not only applies the lubricant with unmatched precision, but also keeps the lubricant enclosed, preventing contamination often associated with manual application methods.
Regardless of industry, time is one of the most valuable assets a plant has. Because the OnTrak SmartLube system allows for remote monitoring and lubrication of bearings, the time spent on lubrication practices is reduced by up to 95 percent. Those extra hours can now be allocated to other means of improvement such as like fulfilling work orders, organizing the lube room, or establishing new procedures to improve efficiency.
For plants who are interested in improving their lubrication programs or condition-monitoring activities, the OnTrak SmartLube provides an easy way to get started with a more holistic solution. The system delivers reader-friendly reporting and integrates with your organization's CMMS, automatically documenting work orders as they are completed. Incorporating this system can drastically improve the state of machines that may have been on the way to bearing failure under an interval-based approach.
Maureen Gribble, Director of Marketing
Email: maureeng@uesystems.com