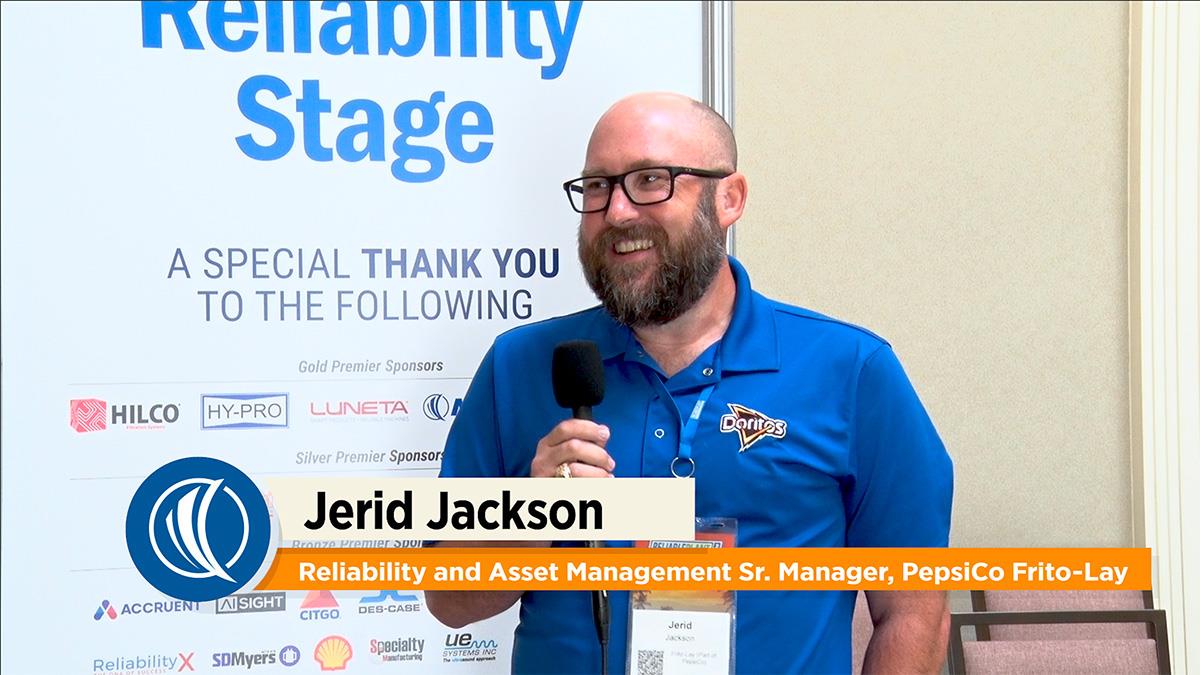 As a classic car enthusiast, Jerid Jackson knows a thing or two about taking care of equipment.
At the 2022 Reliable Plant Conference & Exhibition in Orlando, Florida, he presented "Having a Proactive Reliability Culture is a Conscious Decision," an informative session where he blended his passion for classic cars with his passion for reliability and asset management.
It's no surprise that Jackson is a major proponent of proactive maintenance. He is a two-time Muscle Car of the Year Finalist (2010, 2022), so his passion for taking care of equipment is palpable, especially in his role as Reliability and Asset Management Sr. Manager at PepsiCo Frito-Lay. Kicking off his session, Jackson shared his 5-Step Equipment Care Cycle — a key takeaway detailing how people should take care of their equipment. To illustrate these five steps, Jackson referred to his hobby, where assets take the form of tires, and offered this question: "How should we care for our assets?"
These steps are:
Properly Installed with Precision
Operated per Standard and Design
Perform Essential Care and Fixed-time Maintenance (FTM)
Monitor Health to Identify Impending Failures
Plan and Schedule Repairs for Efficiency and Accuracy
The first step correlates to having the front end aligned, the tires balanced, etc. With the second step, he jokingly asked, "why do my tires keep failing?" as it relates to the concern and awareness for reliability and how one refers to the vehicle's standard operating procedures (SOP) and assesses the tires while driving.
With step three, he likened it to FTM with periodic checks (alignment, balancing, fasteners) as well as tire rotations. Step four is all about condition monitoring and checking the tires for tread depth and feel, as well as scheduled inspections and tire pressure sensors. Step five is all about planning and scheduling repairs. With planning, he emphasizes the need to ensure the work is done correctly with precision by finding a reputable shop and making sure the shop has the tire to avoid potential delays. With scheduling, it's all about the right jobs and the right time, as well as logistics and coordination, i.e., coordinating with an oil change if needed.
"When presenting traditional reliability topics, I often hear people say afterward, 'That is great. Maybe we can get to do some of those things once we start to run a little better.' I was guilty of living within the same paradigm. That is until I realized that I could just 'decide' to be more proactive," he said.
So what changed his mind?
Was it management or leadership pressure to perform? Not really.
Was it feeling like he was the one that everyone else depended on? Maybe.
Was it stress, bad health or missing out on his hobbies? Somewhat.
What about neglecting and missing home and family? Sure.
"I realized that every person on my team was feeling the same way. Something had to change," Jackson said. "I had the recipe, thanks to the many trainings, publications and consulting that I'd been exposed to over the years. I just had to make the conscious decision to make the shift."
In making that shift, Jackson focused on the opportunity cost and, more specifically, the opportunity cost of maintenance. Opportunity cost means "the loss of potential gain from other alternatives when one alternative is chosen." For example:
If we didn't do _________, what other, more proactive activities could we do?
"Stop thinking of only the direct costs of the work you do. The opportunity costs are exponentially higher," he said.
Jackson shared multiple examples of low or no-cost instances of reliability implementation, ranging from a scenario involving a dedicated lubrication technician whose importance was not recognized across the organization and non-existent maintenance planning to a storeroom with an inaccurate inventory. While the scenarios were all different, they shared the common solution of making conscious decisions to yield positive, proactive results.
To get a better picture, he gave an in-depth look at that final example.
Jackson painted a picture of a scene probably all too familiar to most — a poorly organized storeroom with open access to all employees; an honor system for checking out parts as they were taken (particularly on off shifts); inventory counts commonly in the 60% accuracy range; and >$90,000 in annual spend for parts expediting.
The solution, he said, was making a conscious decision to no longer accept poor inventory management by implementing a proximity card system for controlling access and clear processes for recording parts taken as well as frequent inventory counts and replenishment until inventory accuracy improved, starting with the top 20% most-purchased SKUs (Pareto Principle). Lastly, employees reported/posted parts that required inventory adjustments for accountability.
And the results were astounding.
The facility boasted a +99% inventory accuracy for the next eight years and counting as well as an approximate $35,000 reduction in parts expediting costs. The facility also reclaimed the opportunity cost from chasing parts to count/correct more inventory, as well as organizing the storeroom and adopting component storage best practices. The facility eventually eliminated one headcount in the storeroom through attrition.
"The [information] hits closer to home for anyone who has tried to implement improvements only to be turned away due to costs or change management concerns," he said.
Along with making conscious decisions, Jackson stressed the need for clear roles and responsibilities. Illustrating this as an Excel chart, he listed each team member (including himself) along with their roles and responsibilities. Jackson's chart was further broken down into categories that included Reliability Fundamentals, Bad Actors and Root Cause Problem Elimination and Cost Avoidance Projects. He also included a Parking Lot section where the team "parked" topics/ideas for future discussion/implementation.
Stressing that successful adoption of roles and responsibilities is crucial, Jackson shared three categories that he gauges success on: State of Self-Control, Vulnerability-based Trust and Celebrating Wins and Successes.
The State of Self-Control boils down to people knowing the expectations; they know and have what they need to close the gap. Vulnerability-based Trust manifests with people knowing when to say no as well as knowing when to ask for and offer help. Lastly, and most importantly, is Celebrating Wins and Successes. Jackson acknowledges that the wins and successes might be small things at first, but they will build momentum and result in a winning culture.
"You need to have fun sometimes," he said.
Fast Facts - Jerid Jackson
Family life:
Married to wife, April, with three kids (Ashley, Avery, Cragar)

Work experience:
PepsiCo Frito-Lay (2020-Present)
Reliability and Asset Management Sr. Manager
TAMKO Building Products (2010-2020)
Reliability Engineer, Engineering Manager, Maintenance Manager
Temple-Inland, Inc. (1999-2010)
Process Engineer, Maintenance Planner/Scheduler, Reliability Engineer, Equipment Asset Manager

What did he want to be when he grew up?
Doctor

Least impressive talent?
Dad jokes

Bucket List Item:
Restore his uncle's 1969 Chevy Chevelle

Craziest thing he has ever done?
Completed a classic car restoration in eight months