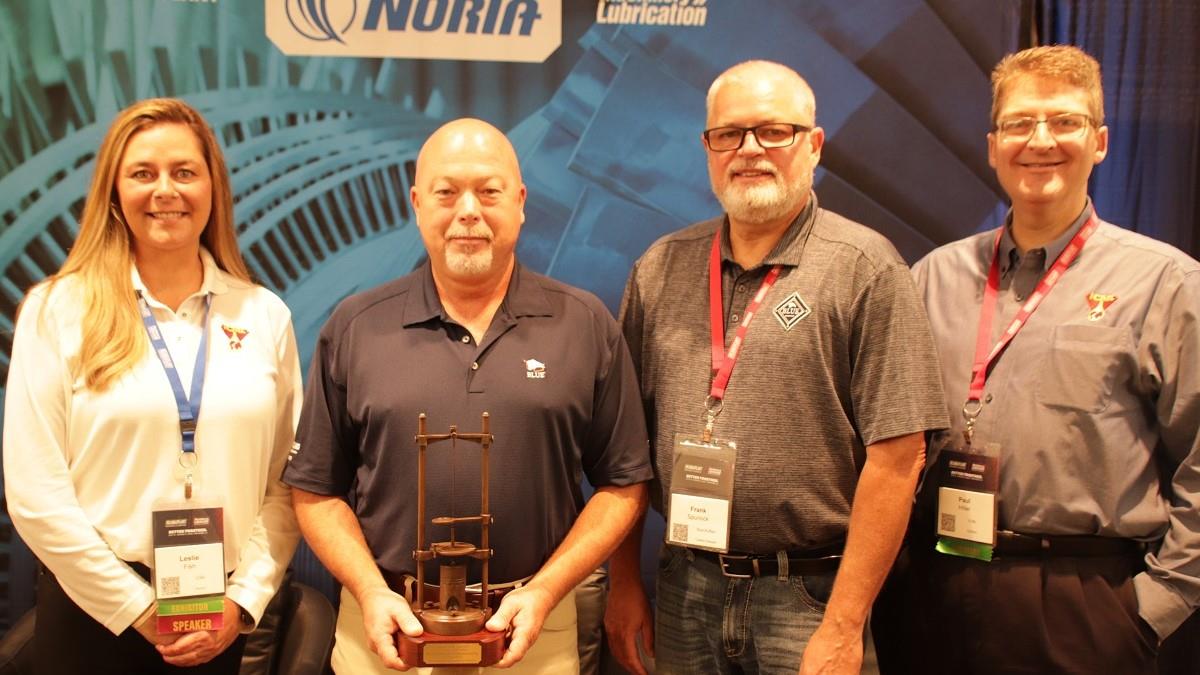 The International Council for Machinery Lubrication (ICML) announced its newest industry award recipient during the recent Reliable Plant & Machinery Lubrication Conference & Exhibition in Orlando, FL.
Blue Buffalo Pet Food Manufacturing (formerly Heartland), a General Mills facility located in Richmond, IN, was selected to receive the 2022 Augustus H. Gill Award for Oil Analysis Excellence. The plant, which houses over 1300 pieces of lubricated equipment, previously won ICML's 2020 John R. Battle Award for Machinery Lubrication Excellence.
"Winning the prestigious Gill Award is the culmination of hard work and a relentless pursuit of excellence," says Operations Manager Frank Spurlock. "It is a testament to our unwavering attention to detail and to the dedication that defines our journey towards success. This award not only recognizes our lubrication accomplishments but also celebrates our constant commitment to company culture. We are honored to receive this recognition, and it fuels our determination to continue pushing boundaries and achieving greatness in all that we do at Blue Buffalo!"
Representing Blue Buffalo, Spurlock and Lubrication Specialist Kevin Keith, MLA II, MLT II, accepted the Gill Award in person from ICML Executive Director Leslie Fish and ICML Marketing Manager Paul Hiller during the conference's opening ceremony August 1. In a short introduction Hiller noted that winning this award "tells the whole world that your company is dedicated to efficiency and productivity, because an award-winning program is one that provides an environment for your employees that is organized and purposeful, not chaotic and wasteful."
Keith held up the Gill trophy — a scale model of a torsion viscometer — and announced that he and Spurlock were accepting it on behalf of fellow Lubrication Specialist Matt Felix, MLA III, MLT II, who passed away earlier this year. Felix and Keith worked closely together for several years in consultation with Noria Corporation to develop their plant's machinery lubrication and oil analysis programs.
Blue Buffalo's Richmond plant is only one of two companies that have won both of ICML's industrial awards, and the first to do so in over fifteen years. The previous dual winner was the Clopay Plastics plant in Augusta, KY, which took home the 2004 Battle Award and 2006 Gill Award.
"The award application process is rigorous, so for a company to gain international recognition once is a feat unto itself," notes Hiller. "But when a company pursues and actually wins both awards—well, that speaks volumes to the passion and dedication of Blue Buffalo personnel and to the support of their management behind the scenes of those world class programs."
Blue Buffalo's 2022 Augustus H. Gill trophy will remain on display alongside the 2020 Battle Award in the Richmond plant's main lobby.
About the Awards
Since 2001, ICML's Battle and Gill Awards have recognized end-user programs that demonstrate excellence in the application of machinery lubrication and in-service lubricant analysis. ICML created these awards to encourage performance of excellence and create a means to share best practices among user organizations on a global scale. The awards are open to companies worldwide and there is no cost to apply. To remain unbiased, ICML does not nominate programs itself but only accepts submissions that come directly from the fields of industry. Applications are
accepted year-round
with annual cut-offs for judging. See the
list of previous winners
.
About ICML
The
International Council for Machinery Lubrication (ICML)
is a vendor-neutral, not-for-profit organization founded in 2001 to help lubrication practitioners succeed in their professional careers, and to serve global industry as the world-class authority on machinery lubrication that advances the optimization of asset reliability, utilization and costs. ICML is an independently chartered organization consisting of both paid professional staff members and volunteer committees. It is a certification body serving industrial lubrication and oil analysis practitioners worldwide; a technical awards body recognizing companies that excel in oil analysis and machinery lubrication programs; a membership body engaging and promoting individuals and organizations; and a standards body developing the ICML 55® Standard for lubricated asset management. ICML certification exams are administered in accordance with ISO 18436 and are available in multiple languages worldwide.