See for yourself what more than 35,000 of your peers receive every other month! Digital (online) subscriptions are free to all subscribers. Print subscriptions are also free to qualified U.S. subscribers.
Begin Your Free Subscription to Machinery Lubrication.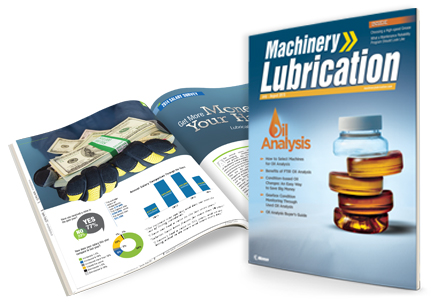 Lube-Tips is a unique educational resource designed to give maintenance and operations professionals an insider's grasp of lubrication and lubricants. Each week, this highly used e-newsletter offers tips and facts intended to provide mind-opening insights and take the mystery out of machinery lubrication. Lube-Tips greases the wheels of industry. See a sample issue of Lube-Tips.

Reliable Plant Mail delivers a wealth of useful information each week to plant maintenance and reliability leaders. From technical tips and best practice reports to articles on hiring and retaining the best skilled talent, this e-newsletter is in an indispensible tool that assists plants in their quest to achieve optimum uptime and performance with a minimal amount of resources.

Reliable Plant Conference & Exhibition inspires lubrication excellence and machine reliability through knowledge sharing, hands-on product exposure and networking among peers. Get up-to-date news and real-time promotional updates by signing up today!